YouTube PIP mode will be available to all iOS users in the US in the coming months and eventually, it should expand to other markets like India.
YouTube iOS users are finally getting picture-in-picture (PiP) mode. Good news!? Well, the iOS PiP feature is limited to the YouTube TV app and also only for US customers now. However, the feature is coming to all users, premium or otherwise in the regular YouTube app. Besides this, YouTube is also reportedly working on an emoji reactions feature.
Let's unpack them one by one.
How YouTube PiP on iOS works: Here's the update for iPhone and iPad users
YouTube Labs Page
YouTube PiP allows you to watch the video in a small scaled-down window that can be moved across the screen and you can view and interact with other things on the smartphone screen. Android phones have had this feature for a long time but a large portion of iPhone YouTube users are still waiting for it.
Picture-in-picture on iOS has been in testing for a while and YouTube premium subscribers could enable it in the app's experimental settings. When you try out YouTube picture-in-picture mode on your iPhone, the videos you are watching could be opened in a mini-player and you continue using other apps on the device. Locking the screen would pause the video although you could resume by tapping the control menu available on the lockscreen.
The Twitter handle of YouTube TV announced:
iPhone & iPad users

We're happy to share that picture-in-picture is now rolling out to your iOS 15+ devices. Simply select a video to watch and swipe up from the bottom of the screen to return to the device's homepage. The video can scale down and move across your screen.

— YouTube TV (@YouTubeTV) March 30, 2022
What's new is that both iPhone and iPad YouTube TV users in the US can now experience PiP. The requirement is that your device must be on iOS 15 or above software version.
Also, the real good news comes from The Verge which has got a statement from Google spokesperson Allison Toh saying that the company is "still testing picture-in-picture on iOS with Premium members and hope to make it available to all iOS users (Premium). and non-Premium) in the US in the coming months."
Meanwhile, the Google company is also experimenting on —
Timed YouTube Emoji Reactions: How it works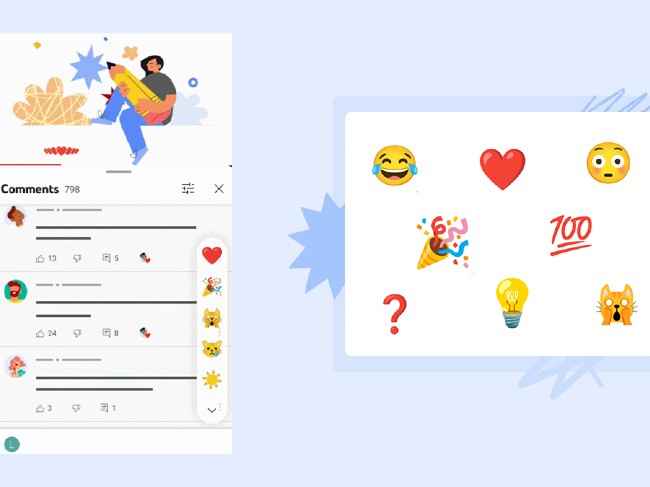 YouTube Timed Reactions​
In a blog, Google reveals it is testing a new way to share an emoji reaction (like a smiley face, confetti, etc.) at an exact moment in a YouTube video. This is in similar veins to another feature that allowed users to post a comment on specific moments of the video they are watching. Both these goodies are in the beta phase and being rolled out to a small number of channels, to begin with.
Meaghan, Community Manager, TeamYouTube, said, "If you're watching a video that is part of this experiment, you can react and see crowd reactions by opening the comment section of the video and tapping into the reaction panel. The test will also show you which moments other viewers are reacting to. We know the community is important to you, so we're committed to bringing you more features that strengthen the sense of community on YouTube."
For other news, reviews, feature stories, buying guides, and everything else tech-related, keep reading Digit.in.
.