YouTube has added a new playback feature to its web player and mobile apps that helps users identify the most replayed parts of a video they're watching (via TechCrunch).

Going forward, a gray graph will appear along the top of the video progress bar. "If the graph is high, then that part of the video has been replayed often," YouTube says. "You can use the graph to quickly find and watch those moments."
The feature is being pitched as particularly beneficial for longer videos or those that haven't been broken down into sections using timestamps or chapters, allowing users to scrub through any YouTube video to find the most interesting parts.
Previously the feature was as an experiment that only YouTube Premium subscribers could access, but it's now available to anyone who uses YouTube from a browser or the company's official iOS and Android apps.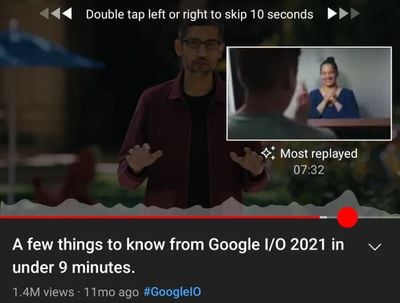 The video thumbnail also indicates the "Most replayed" segment.
YouTube announced the feature alongside a number of other changes designed to make videos easier to navigate, including a new way to loop parts of the videos, and a forthcoming experiment for Premium subscribers that lets users "seek to the exact moment in a video that you want to watch."
Related Stories
YouTube Says iOS Picture-in-Picture Coming to All Users 'in a Matter of Days' [Updated]
Following a lengthy testing period, YouTube's picture-in-picture support for iOS will begin rolling out in the next few days, allowing all users, including non-premium and premium subscribers, to close the YouTube app and continue watching their video in a small pop-up window. Google in June announced that picture-in-picture support would be rolling out to both premium and non-paying YouTube …
YouTube Still Testing Picture-in-Picture on iOS With Premium Subscribers [Updated]
YouTube today extended its testing period for the iPhone's picture-in-picture feature by an additional two weeks. YouTube Premium subscribers now have access to picture-in-picture mode on iOS as an "experimental feature" until February 14, according to YouTube. The feature was originally set to be available until January 31, but the date has been pushed forward several times….
YouTube TV Rolling Out Picture-in-Picture Support for All iOS 15 Devices
Picture-in-picture support is rolling out to all YouTube TV users who have an iOS 15 device, the YouTube TV team announced today on Twitter. When watching YouTube TV content, users can swipe up from the bottom of the screen to return to the Home screen, with the content continuing to play in a small picture-in-picture window that can be adjusted. With picture-in-picture support, YouTube TV…
YouTube Premium and Music Surpass 50 Million Subscribers
YouTube says it has passed 50 million subscribers for its Premium and Music subscriptions, making it the "fastest growing music subscription" service in the world, according to YouTube's global head of music, Lyor Cohen. YouTube says that it has more than 50 million paying subscribers collectively across YouTube Premium and YouTube Music. The Google-owned service says it attributes this…
Wristcam Bringing Video Calling Feature to Apple Watch
The camera-equipped Wristcam accessory for the Apple Watch is being updated with FaceTime-like video calling, the company announced today. For those unfamiliar with Wristcam, it is an Apple Watch band that adds an 8-megapixel camera and a two-megapixel selfie camera to your wrist, with the camera able to hold up to 2000 photos or an hour of video. The device connects to the Apple Watch over…
Belkin's Wemo Smart Video Doorbell With HomeKit Secure Video Now Available From Apple
Belkin's Wemo brand debuted its $250 Smart Video Doorbell with HomeKit Secure Video support back at CES in January, and the doorbell is now available through Apple's online and retail stores. The Wemo Smart Video Doorbell, which is also available directly from Belkin, is one of the few doorbells on the market so far to support HomeKit Secure Video, which not only allows video feeds to show…
YouTube Tests Cheaper 'Premium Lite' Subscription for Ad-Free Viewing
YouTube is piloting a new cheaper subscription tier in Europe called "Premium Lite," which offers ad-free viewing minus YouTube Premium's other features. First spotted by user on ResetEra and confirmed by Google, the "Lite" plan means users who aren't interested in offline downloads or background playback can still enjoy YouTube videos on web and mobile app without being…
Telegram Testing New Premium Subscription
Popular secure messaging app Telegram is testing new monetization strategies, and hints of a new Telegram Premium subscription have shown up in the 8.7.2 beta version of the iOS app. As noted by Android Police, the beta includes both stickers and reactions that are locked behind a paywall. Users who select these premium stickers and reactions are prompted to sign up for the Telegram Premium…
Popular Stories
Apple Watch Series 8 Rumored to Feature New Design With Flat Display
The Apple Watch Series 8 could feature an all-new design with a flat display, according to the leaker known as "ShrimpApplePro." In his latest video on the YouTube channel Front Page Tech, Jon Prosser highlighted information from ShrimpApplePro that suggests the Apple Watch Series 8 could feature a flat display in what seems to be a design originally rumored for the Apple Watch Series 7. …
Anker's Latest USB-C Docking Station Brings Triple-Display Support to M1 Macs
While Apple's early M1-based Macs can only officially support a single external display, there are ways around the limitation. Anker is launching a new 10-in-1 USB-C docking station today which delivers just that. The Anker 563 USB-C dock includes two HDMI ports and a DisplayPort port, and it leverages DisplayLink to carry multiple video signals over a single connection. Given that this hub…
Apple Releases macOS Monterey 12.4 With Support for Studio Display Webcam Update
Apple today released macOS Monterey 12.4, the fourth major update to the macOS Monterey operating system that launched in October 2021. macOS Monterey 12.4 comes over two months after the launch of macOS Monterey 12.3, an update that added Universal Control. The ‌‌macOS Monterey‌‌ 12.4 update can be downloaded on all eligible Macs using the Software Update section of System…
WhatsApp to Let Users Leave Group Chats 'Silently' and View Rich Link Previews in Status Updates
WhatsApp is working on a new feature that will allow users to "silently" leave group chats hosted by the messaging platform instead of all members of the group being notified when they do. As it stands, when someone leaves a group chat, WhatsApp announces their exit to the entire group, making the act of leaving very public. It's not possible right now to leave a group quietly, but WhatsApp…
Apple Highlights iPhone's Latest Privacy Features in New 'Data Auction' Ad
Apple today shared a new ad highlighting iPhone privacy features like App Tracking Transparency and Mail Privacy Protection that are designed to give users more transparency and control when it comes to their personal data being collected. The ad revolves around a young woman named Ellie who discovers that her personal data is being sold at an auction house, with bids being placed on her…
Apple Facing Lawsuit After AirPods Allegedly Ruptured Child's Eardrums With Amber Alert
Apple's AirPods ruptured the eardrums of a 12-year-old boy in 2020 when a loud Amber Alert was issued, according to a lawsuit filed against Apple in California (via Law360). The child, identified as BG in the filing, was watching a movie on Netflix on his iPhone in 2020 while wearing AirPods Pro. The AirPods Pro were allegedly set at a low volume, but an Amber Alert sounded without warning …
Apple Reinstating Employee Mask Mandate at Approximately 100 US Retail Stores
Apple retail employees at around 100 stores will need to go back to wearing a mask while working, according to Bloomberg's Mark Gurman. Apple is mandating masks for employees again due to a number of COVID cases across the United States. Customers who visit an Apple Store are not required to wear a mask at this time, but Apple is continuing to recommend masks for all Apple Store…
.