Warmer temperatures are on the way, which means it's time to start thinking about sprucing up your outdoor space to enjoy during the spring and summer months. Outdoor smart lighting is one way you can easily improve the look of your landscaping and brighten up dark spots around your property just in time for patio season.
The app-controlled smart lights below allow you to choose between shades of white and millions of colors, create automatic schedules, power the lights on/off from anywhere, and control them with voice commands using popular smart assistants Alexa and Google Assistant.
Outdoor smart lights come in all different shapes and sizes to suit your decorating needs. Whether it's a floodlight camera for better home security or a colorful set of bistro lights that bring the party to your patio, here are five different styles of outdoor smart lights to upgrade your home with for spring.
1. Outfit existing exterior lights with smart bulbs
If you don't want to purchase all new light fixtures, you can upgrade your existing outdoor lights with the help of smart light bulbs. Smart bulbs can be installed into your current exterior fixtures, and options like the Cync Smart Outdoor Flood Light Bulb (formerly GE) are designed to be used in outdoor settings, so you don't have to worry about them getting wet.
Cync's bulb offers 1,300 lumens of brightness and can be set to any color imaginable, and it doesn't require a smart hub or any complicated setup. Compatible with voice assistants Alexa and Google Assistant give you hands-free control of the light's power, brightness, and color. How's that for high-tech?

Get the GE CYNC Smart Outdoor Flood Light Bulb from Amazon for $42.88
2. Decorate with smart string lights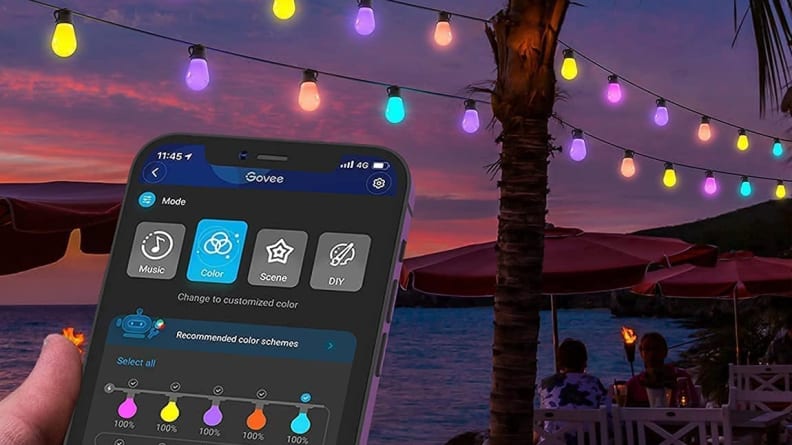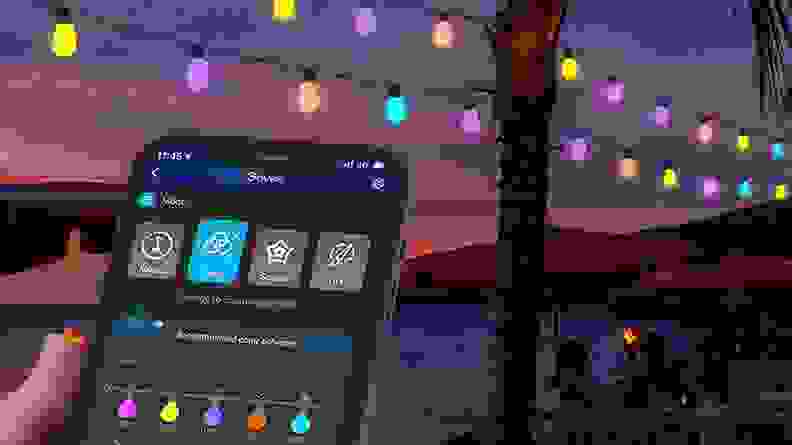 A set of Wi-Fi and Bluetooth-enabled bistro-style smart lights, like the Govee Smart Outdoor String Lights, is a fun and welcoming way to dress up your porch or patio. The strands come in 48-foot lengths, each of which has 15 color-changing LED bulbs that you can manage from the Govee app and by using voice-control with smart assistants Alexa or Google Assistant. (A remote comes with the lights, too.)
The bulbs are made of plastic and claim to be watertight and shatterproof, making them an ideal option for placing anywhere outside. The Govee app is full of customization options like changing the colors, brightness, and lighting effects. Go ahead, make them red, white, and blue for the Fourth of July or pink and red for Valentine's Day—the sky's the limit!

Get the Govee Smart Outdoor String Lights (48 ft.) from Amazon for $69.99
3. Protect your home with a smart floodlight camera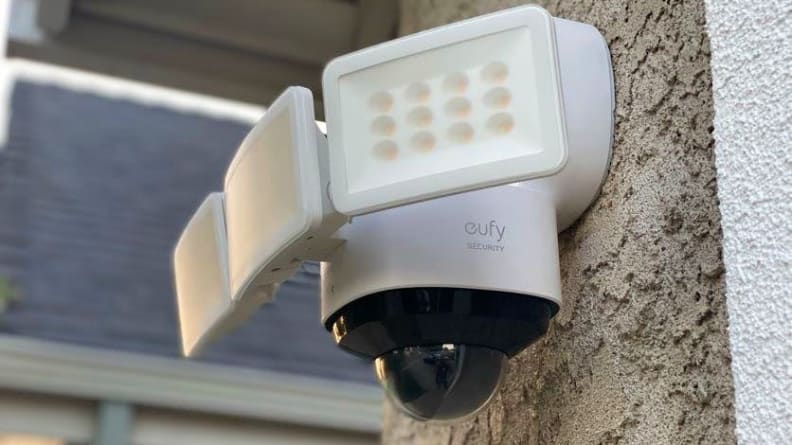 Looking for a light that will help keep your home and family safe? The Eufy Floodlight Cam 2 Pro is one of the best smart outdoor security cameras we've tested, helping to light up your yard while capturing video footage any time it detects motion. This smart flashlight puts out 3,000 lumens of brightness, which is plenty bright to illuminate your dimly-lit driveway or dark side yard, and the camera pans and tilts up to 360 degrees, allowing you to see it all.
Other features we like include the camera's free internal storage option, which saves you from having to pay a subscription fee for cloud storage, as well as its crisp video footage and clear two-way audio. There's even a remote-activated 100db siren that you can turn on from your phone to scare away animals or anyone who enters your yard uninvited.

Get the eufy Security Floodlight Cam 2 Pro from Amazon for $299.99
4. Light up your walkways with smart path lights
Path lights are an easy way to dress up your yard and increase curb appeal, and the Ring Solar Pathlights are some of the best outdoor solar lights we've tested. Each light puts out up to 80 lumens of brightness and gets power from a small solar panel atop each stake. When connected to a Ring Bridge, you can create custom schedules, turn the lights on/off remotely, and connect them to other Ring devices for whole-home smart lighting.
If you don't want to go the solar-powered route, another option is the modern-looking Philips Hue Calla Bollard Lights, which plug into a power source via an 11.5-foot cord (and require a Hue smart home hub for use) . You can set the lights to white (or something more colorful) in the Hue app or by voice using Alexa, Siri, or Google Assistant.

5. Plug existing lights into outdoor smart plugs
Finally, if you have outdoor lights that still have plenty of life left in them, you can turn them into smart lights with the help of an outdoor smart plug. These devices allow you to remotely control any plug-in light, whether it's a strand of twinkle lights on your patio or a spotlight for your flagpole—all you have to do is plug the light into the smart outlet.
The Wyze Outdoor Plug is one of the best you can buy. It has a Wi-Fi range of 300-feet and two independently-controlled outlets. The app is extremely user-friendly, and it works well with both Alexa and Google Assistant. Or, if you want to be able to dimm your outdoor lights, look into the Kasa Outdoor Smart Dimmer Plug, which is ideal for use with dimmable bulbs (and works with Alexa and Google Assistant).

The product experts at Reviewed have all your shopping needs covered. Follow Reviewed on Facebook, TwitterInstagram, TikTok, or Flipboard for the latest deals, product reviews, and more.

Prices were accurate at the time this article was published but may change over time.