When systems analyst and programmer Marco Benchoam (pictured, center) and his then-wife Cely started Benelec in 1978, they cashed in on the boom of CB radios by importing and distributing the first 23CH 27MHz CB's and related accessories.
Marco's son David (pictured, right), an electrical engineer and now General Manager, and his other son Roger, now the Technical Director, then joined the company around 1986 and 1992 respectively.
Again following demand, the family turned into antennas, selling products made by a local manufacturer, who they bought out in order to cut costs and manufacture their own.
Now, Benelec's core business is in LMR (Land Mobile Radio) and Cellular Antennas, which they also make for the Australian and US markets.
Alongside the antennas, the Botany-based company also specializes in high-end digital radios and accessories. One of their biggest customers is Fire and Rescue NSW, for whom they've developed a DRAI dual radio audio solution, a hardy two-way digital radio system that allows the radio installed in the cabin of the fire pumper truck to be used remotely at the rear of the truck, where all the pump controls are.
LR: St.George's Adam Dowling, David Benchoam, Marco Benchoam and Aaron Benchoam with Benelec's DRAI system for Fire and Rescue NSW
This Benelec innovation, means in operational situations the pump control fire fighter is able to effectively communicate between the Incident fire fighters and the control rooms managing the local operations. The new generation IP version of this system is now being developed.
Now a three-generation family business, at least one of David's sons Aaron has put on the Benelec uniform as well.
R&D key to keeping ahead
Over the years, as bandwidths have gotten wider and technology more sophisticated, Benelec's in-house R&D team has had to constantly redesign their antennas to meet market needs.
And it's paid off. The company says the current performance, bandwidth and design of their products mean they're superior to most other antennas on the market in either the US or Australia. And they're all-Australian made.
But while Benelec does its own laser and TIG welding in-house, the laser cutting of the stainless steel for the antennas has always been outsourced to another local manufacturer.
That's about to change.
Manufacturing relationships: why Benelec went to St George Bank
Just as families are fundamentally about relationships, when it comes to choosing a bank to do business with, it's no different. That's why Benelec chose St.George and their Relationship Director, Industry Banking NSW, Adam Dowling.
"It's completely about the relationship. The bank manager you have really is like a partner in the business," says General Manager David Benchoam.
"He even gets a share of the profits!" laughs father Marco, the Managing Director.
David Benchoam has known Dowling for over 10 years and says St.George, with its specialist manufacturing and wholesale industry team, understands the needs of SMEs like theirs.
"Adam just gets what's involved when we explain things to him," says Marco Benchoam.
Late last year, the antenna and radio specialists went to St.George with a proposal to finance the growth of their in-house manufacturing capabilities.
The plan was two-fold: buy their own laser cutting facility so that they can bring all the laser cutting of antennas into their facility, and upgrade their electro-polish business.
They're now preparing to get a new nitrogen laser cutting facility for sheet (up to 16mm stainless steel) and tube (9.5 – 250mm diameter). The nitrogen is generated from the air, dispensing with the need to buy tanks of nitrogen gas. Backup air compressors can be used should there be an issue with the nitrogen plant.
Doing the laser cutting in-house is a "big deal … in fact a game changer", say the Benchoams. And the plan is for Benelec to tap into the significant growth in the various antenna markets they service.
Electropolishing upgrade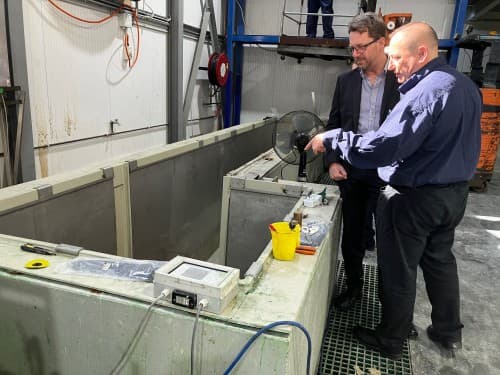 David Benchoam showing St.George's Adam Dowling the new polishing tank
New funding also went towards an upgrade of Electropolish Pty Ltd, the family's side business in stainless steel electro-polishing. With the money, the company has just installed a new six-meter L-shaped polishing tank at its Botany site, along with the infrastructure required for the electricity and chemical baths.
The new polishing tank means the company can offer the polishing service on a bigger variety of fabricated stainless steel products, catering for up to 6m in length.
As St.George's Adam Dowling puts it, "We try to understand how manufacturers think, which is about new machines that expand the business now, and save costs tomorrow.
"The manufacturing side that St.George specialises in adds value, because all the banks offer the same products and services, really."
"But it's the way you offer it," says Marco Benchoam.
"And the level of understanding," points out David Benchoam. "You can talk to two or three bank managers and have a totally different experience with them all."
www.benelec.com.au
02 8397 3333