Backbone today announced the release of a new PlayStation Edition of its popular game controller for the iPhone. There is also a new dedicated section inside the Backbone app for iOS with new releases and updates from PlayStation.

The new controller was created in partnership with Sony and inspired by the design of the PS5's wireless DualSense controller, including transparent button faces. The controller is priced at $99.99 in the United States and is available to order starting today in a white color matching the PS5 console, in addition to a black option.
Backbone says the controller is compatible with all iPhones, with an adapter included in the box for the iPhone 13 Pro and iPhone 13 Pro Max. Users can simply snap an iPhone into the controller and begin playing PlayStation games via the PS Remote Play app, or games on the App Store, Apple Arcade, Xbox Remote Play, and more.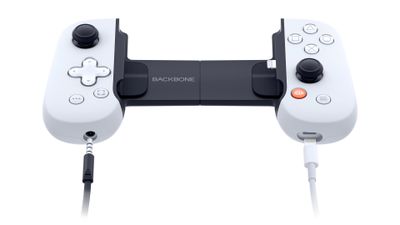 The controller connects to and is charged by the iPhone via Lightning, and there is an additional Lightning connector for pass-through charging. The controller also has a 3.5mm headphone jack, a button for capturing screenshots and game clips, and a button to open the Backbone app. The controller can be collapsed/folded when not being used.
Customers who purchase the Backbone One PlayStation Edition controller can receive some perks, such as a free one-month subscription to Apple Arcade if they have not already subscribed to the service, along with three months of Discord Nitro for free and more.
iPhones have already supported PS5 DualSense and Xbox Series X/S controllers via Bluetooth since the release of iOS 14.5 last year.
Related Stories
Some Users Experiencing Issues With Game Controllers in macOS Monterey 12.3
Following the macOS 12.3 update that was released on March 14, some Mac users have run into issues with game controllers after installing the new software. Complaints on the Apple Developer Forums and Reddit suggest that some Xbox, PlayStation, and other third-party controllers are not functioning over Bluetooth. Not all users appear to be affected, as some people have said that their…
Apple Explains What Happens When Games Are Removed From Apple Arcade
Apple today published a new support document that clarifies what happens when games are removed from its Apple Arcade subscription service. Apple said that users who download a game before it is removed from Apple Arcade can continue to play the game for "at least two weeks after." Users who launch an Apple Arcade game that is no longer playable will receive a "No Longer Available" message. …
Games Leaving Apple Arcade Soon Won't Be Playable [Updated]
Apple recently added a "Leaving Arcade Soon" section to its Apple Arcade App Store service, signaling that approximately 15 games are going to be removed from Apple Arcade at some point in the near future. Apple did not provide details on why the games are leaving or what happens to the games downloaded onto the devices of Apple Arcade customers, but MacRumors spoke to an inside source that…
New App Store Section Reveals 15 Games Leaving Apple Arcade Soon
Apple Arcade is set to lose 15 games in the near future, according to a new section in the Arcade area of ​​the App Store titled "Leaving Arcade Soon." The following games are listed in the new section, which allows Arcade subscribers to download the games while they are still available, without specifying when they will be gone. Projection: First Light Lifeslide Various Daylife EarthNigh…
iOS 16 Adds Support for Nintendo Switch's Joy-Cons and Pro Controller
While not advertised on Apple's website, it has been discovered that iOS 16 adds support for the Nintendo Switch's Joy-Cons and Pro Controller. The feature was highlighted on Twitter by Riley Testut, the developer behind iOS video game emulator Delta. In a series of tweets, Testut said that iOS 16 supports both single left or right Joy-Cons, or both at once as a singular controller. Testut…
macOS Ventura Introduces Support for Popular Racing Wheels and Pedals on Mac
macOS Ventura features newly added support for some of the most popular racing wheels, pedals, and shifters for use in racing games on the Mac, including Logitech's G920 and G29 racing wheels, according to Apple's developer website. Apple also says that many additional Bluetooth and USB game controllers are supported on macOS Ventura, iOS 16, iPadOS 16, and tvOS 16. Among the new controllers …
Popular Stories
Everything New in iOS 16 Beta 4 For Lock Screen, iMessage, CarPlay, and More
Apple today seeded the fourth beta of iOS 16 to developers for testing. The latest beta contains a handful of new features and changes involving the Messages app, Home app, Mail app, Lock Screen notifications, CarPlay, and more. Subscribe to MacRumors on YouTube iOS 16 is currently in beta for developers and members of Apple's free public beta testing program, and the software update will be…
Titanium Apple Watch 'Pro' Could Signal the End of Apple Watch Edition
The larger Apple Watch Series 8 model expected to arrive later this year is rumored to feature a titanium casing, raising questions about the future of the Apple Watch Edition. Yesterday, Bloomberg's Mark Gurman reported that the new, larger Apple Watch model scheduled to launch this year will feature a casing made of "a more durable formulation of titanium to make it extra rugged." Apple …
Apple Replaces Last Remaining Intel-Made Component in M2 MacBook Air
In the M2 MacBook Air, Apple has replaced an Intel-made component responsible for controlling the USB and Thunderbolt ports with a custom-made controller, meaning the last remnants of Intel are now fully out of the latest Mac. Earlier this month, the repair website iFixit shared a teardown of the new MacBook Air, revealing a look inside the completely redesigned machine. One subtle detail…
Five Apple Products Rumored to Switch to USB-C
While the iPhone still uses the Lightning connector for now, Apple has been transitioning many of its devices to USB-C in recent years. Apple now offers USB-C ports on every Mac that it currently sells, ranging from the MacBook Air to the Mac Pro. Other devices with a USB-C port include the 2018 and newer iPad Pro, 2020 and newer iPad Air, sixth-generation iPad mini, Studio Display, and Pro…
Apple Had M1 Mac Pro Ready to Ship Months Ago, Mac Mini Redesign Unlikely
Apple had a Mac Pro featuring the M1 Apple silicon chip ready to ship and launch to customers "months ago," but has ultimately decided to wait for the "M2 Extreme" Mac Pro later this year, Bloomberg's Mark Gurman has revealed. In an interview with YouTuber Max Tech, Gurman said that Apple likely held off on the M1 Mac Pro to wait for the more high-end and powerful version with the "M2…
Budget Smartphone Comparison: Google's $449 Pixel 6a vs. Apple's $429 iPhone SE
Google last week launched the Pixel 6a, a $449 budget smartphone that's designed to compete with more affordable smartphones like Apple's iPhone SE. We picked up a Pixel 6a to see how it measures up to the iPhone SE in terms of design, performance, and camera technology. Subscribe to the MacRumors YouTube channel for more videos. The Pixel 6a has a 6.1-inch 1080p OLED display, which means…
iPhone 14 Pro Rumored to Have 6GB of Faster RAM
The iPhone 14 Pro and iPhone 14 Pro Max will both feature 6GB of RAM and a newer and faster type of memory, according to a report today from DigiTimes. iPhone 14 Pro renders created by Ian Zelbo for Jon Prosser The report claims that the high-end models of the upcoming iPhone lineup will feature 6GB of LPDDR5 RAM, a faster and more efficient type of memory compared to older standards. Current …
.